First of all… The problem with Annual Accounting
For a lot of business owners, filing their annual income tax returns at the end of the financial year is the only time they know how their businesses have performed for that financial year. That's a bit like flying blind. Worse yet, those income tax returns can sometimes already be many months old.
This is how a lot of business owners can find themselves in a cashflow trap, especially if they are required to pay more tax than they have saved throughout the trading year or what they have paid in provisional tax throughout the year.
It is these business owners that often do not know if they have a profitability problem or enough cashflow to satisfy future tax obligations until it's too late.
This is often the source of cashflow worries and sleepless nights.
That's where the Kiwitax Monthly Accounting Service shines, by painting a light on the how a business's cashflow and profitability is working in real time.
So, what is Monthly Accounting?
The Kiwitax Monthly Accounting service builds on the annual accounting service and boosts it with a bunch of extras to keep business owners in the know, updated monthly.
Starting with monthly reports detailing cashflow, profitability and tax obligations. Business owners will have business information tailored to suit their business by their accountant.
Monthly coding checks ensure reconciliation information is correct and monthly GST filings keep you on top of your tax.
Kiwitax Monthly Accounting clients receive priority support from our accountant, so questions are answered quickly, letting you keep on keeping on.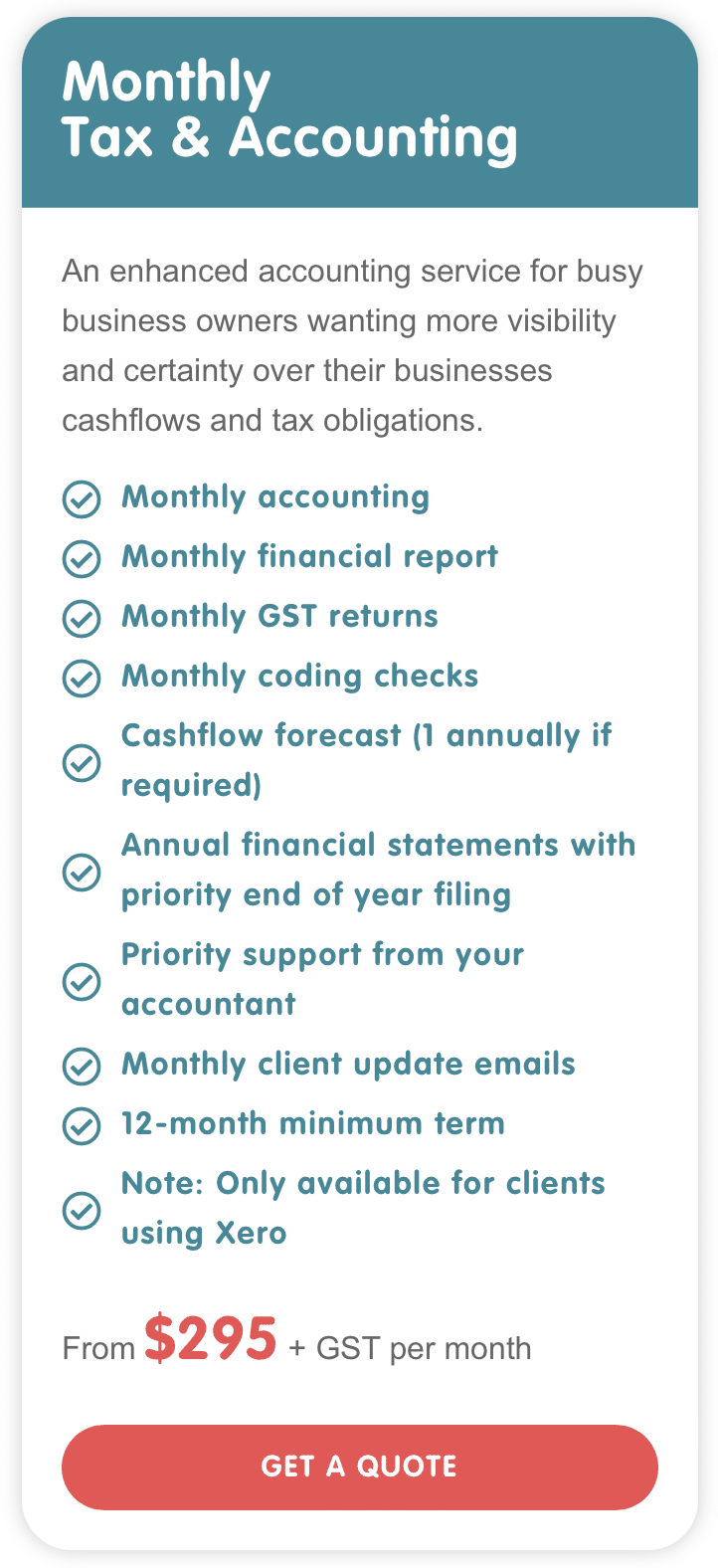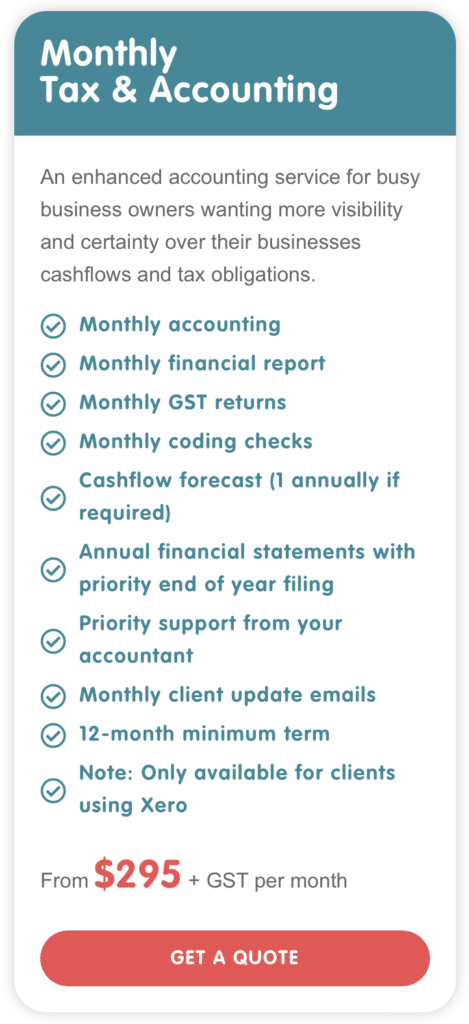 Monthly Accounting Service Benefits
Kiwitax Monthly Accounting clients receive many benefits, all of which contribute to a better night's sleep and the confidence to drive their businesses forward. Our customers told us specifically that they received these benefits;
Gain financial clarity
Because your financial data is updated monthly you get a real-time trading position and improved financial clarity with monthly reports tailored to your needs. From cashflow to debtors or profit, you can tailor your report based on what you need to know.
Spot financial problems earlier
Monthly coding checks in Xero ensures your data is coded correctly and you will be able to spot any cashflow or profitability issues earlier. You won't have to wait until your end of year financial statements are produced to see how your year went.
Smooth out cashflow
Using Kiwitax Monthly Accounting Service helps to smooth cashflow with monthly GST filings. A monthly update on income tax obligations means you will know how much to save for income tax and a fixed monthly accounting fee means no more big bills or surprises.
Secure lending easier
Need to finance a new piece of plant or machinery? The Kiwitax Monthly Accounting Service includes a cashflow forecast (if you need one) for your bank, giving you access to secure new lending easier and much more quickly.
Receive priority support
With priority support from your accountant, you get answers when you need them. Also, your accountant will develop a much better knowledge of the business as they are working on it monthly rather than annually and your accountant will gain a better understanding of how you are tracking towards your goals.
How much does the Monthly Accounting Service cost
The monthly accounting services starts from just $295 + GST per month and is priced based on the complexity and turnover of your business. Depending on the time of year, you may need to get your financial information caught up to date for a small fee, a Kiwitax Sales Advisor can determine what that might be for you.
You can request a free no-obligation quote in just two minutes online here.
Who is the Monthly Accounting Service for?
The monthly accounting service is for business owners looking more than simply ticking boxes with the IRD, this service is the next best thing to having an actual accountant working in your business (without the massive salary). Business owners wanting to make smarter, more informed decisions and business owners wanting to work on their business's performance.
How easy is it to switch?
Switching from another accountant is easy. Once you have received your proposal from your Kiwitax sales advisor, you simply need to follow the link to our onboarding form on the Kiwitax website and complete the information required. We will then send out a welcome pack with information about your Kiwitax service and introduce you to your Kiwitax accountant. We'll even let your old accountant know that you are switching to Kiwitax. Simple!
What do customers say about the Kiwitax Monthly Accounting Service?
Customers tell us they have better visibility over their businesses cashflows and a better understanding of their tax obligations from month to month. This in turn gives them more confidence to make quick decisions and as a result they sleep better at night.
"I highly recommend Kiwitax as at top notch monthly accounting service. They have been handling our accounts with great efficiency and accuracy. Their attention to detail and quick turn around time has been incredibly valuable to our business. They have also been a great resource for any financial questions or concerns we have had, especially during the complicated transfer of ownership process. We are extremely satisfied with the monthly service they provide and would definitely recommend them to any business in need of a reliable and trustworthy accountant" – Shane Lui – Almak Fire & Security

"We jumped at the opportunity to take advantage of the monthly service Kiwitax offer. It has been a great benefit to our growing business. It allows us to look at our figures in real-time and make informed decisions. Kylie and the Kiwitax team have been a dream to deal with and we proudly refer them to others."  – Chelsey O'Connor – CSR Engineering Ltd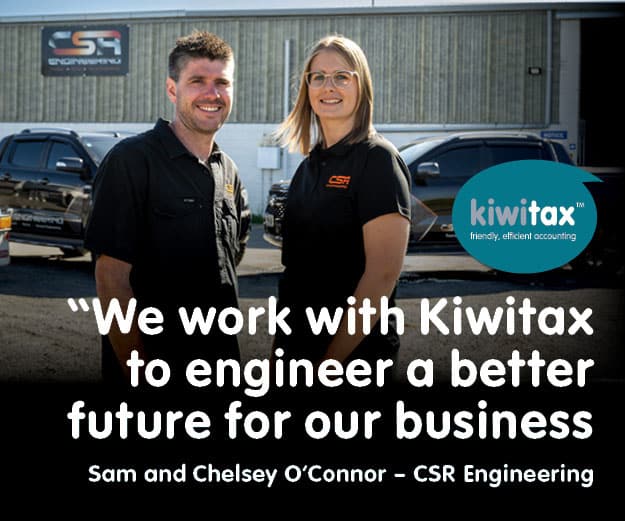 About Kiwitax – Award winning business improvement, tax and accounting service
Here's the thing. As a business, rental property owner or start-up, you get a kick out of having your own gig. But chances are dealing with your tax and accounting leaves you cold. Good news! We love it, so hand it over to Kiwitax and we'll look after it all for you.
Whether you deal with us online, by phone or drop into our Napier office, you'll find a friendly, professional hardworking team ready to work with you, however you keep track of your financial information and from wherever you do business. And all for a fixed price. It takes just two minutes to get a quote.
Plus if you're at a loss to know how to improve aspects of your business – from growth planning to cashflow management, even tax debt and so much more – we're all over that too. Our Business Improvement Advisors can help you make a plan and put it into action.
Kiwitax are a preferred training provider for Business Improvement services through the Regional Business Partner Network Capability Voucher Scheme. This is a government funded scheme designed to boost business capability by providing funding of up to 50% of approved training programs with specified training providers up to a maximum value of $5000.
If you liked this article and want to make improvements in your business, with quarterly coaching sessions specifically tailored to support you to identify and achieve your business goals, lets chat!