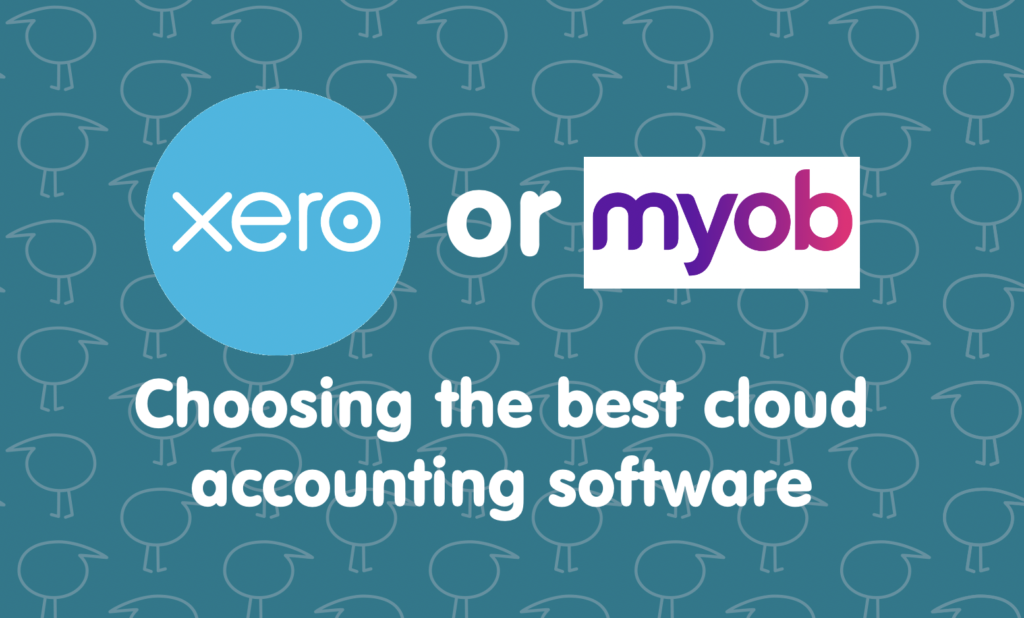 Cloud accounting software is a real game changer when it comes to managing your business. In New Zealand we have two main options; Xero or MYOB Essentials.
So, how do you choose the best cloud accounting software for your business?
Here at Kiwitax, we don't take a 'one size fits all' approach to helping you choose the right cloud accounting software option, we are both a Xero platinum champion partner and a MYOB diamond partner so you can rest assured that we will help you to make the best decision for your situation.
Read on for some helpful tips, based on specific features around the most common platforms used by our small and medium business clients, MYOB Essentials & Xero;
Bank Feeds
Bank feeds are where your bank transactions are automatically uploaded into your accounting software ready for you to reconcile and code them. Both MYOB Essentials and Xero have strong bank feed platforms. The main factor here is ensuring your bank is compatible with your chosen software, Credit Unions and Building Societies generally do not offer direct electronic bank feeds.
Here's a list of Xero supported bank feeds & here are the MYOB supported bank feeds.
Payroll
Now that Payday filing is mandatory for all NZ businesses, direct electronic filing is a huge time saver for many small business owners. Both MYOB Essentials and Xero have this function available in their standard subscriptions.
Payroll for one employee is included in standard and starter MYOB Essentials packages. For more than one employee, you will need to upgrade to the Accounting + Payroll package. Find out more.
Payroll is an 'add on' feature for standard Xero subscription. To add this to your subscription you will pay $10 + GST p/m for the first employee and $1 + GST p/m for each additional employee. Find out more.
Online GST filing
Both Xero & MYOB provide direct electronic GST filing with the NZ Inland Revenue Department for 1, 2 and 6 Monthly returns.
Mobile App
MYOB offer 2 separate apps; MYOB Invoices for Quoting & Invoicing on the go and MYOB Capture for uploading receipts and documents.
Xero's mobile app is superior with the ability to Invoice, Quote, Create Bills, Receipts, file uploads, manage contacts/customers & bank reconciliation.
Support
Both MYOB Essentials and Xero have an online/email support platform, knowledge base and video tutorials.
MYOB also have phone support, based out of Christchurch & Australia. (Insider tip – call their helpline before 10am to avoid the Australian 'rush hour')
Inventory Management
One area both MYOB Essentials & Xero suffer greatly is inventory management.
Xero's existing inventory management feature will be perfectly fine for a business with only a few stock items to track but larger businesses, such as retail stores will be best using a third-party app which are available to integrate with your Xero subscription.
Although MYOB Essentials users cannot track inventory like their more advanced programmes (MYOB AccountRight), users can set up 'items' to use in your sales and purchases.
Price
The value of accounting software often outweighs the cost, especially for time poor business owners.
MYOB Essentials – starting from $25 + GST per month
Xero – starting from $31 + GST per month
You're welcome to contact us directly if you want to chat further about the specific needs of your business, we'll work with whatever you choose.
About Kiwitax – Award winning business improvement, tax and accounting service
Here's the thing. As a business, rental property owner or start-up, you get a kick out of having your own gig. But chances are dealing with your tax and accounting leaves you cold. Good news! We love it, so hand it over to Kiwitax and we'll look after it all for you.
Whether you deal with us online, by phone or drop into our Napier office, you'll find a friendly, professional hardworking team ready to work with you, however you keep track of your financial information and from wherever you do business. And all for a fixed price. It takes just two minutes to get a quote.
Plus if you're at a loss to know how to improve aspects of your business – from growth planning to cashflow management, even tax debt and so much more – we're all over that too. Our Business Improvement advisors can help you make a plan and put it into action.
Kiwitax are a preferred training provider for Business Improvement services through the Regional Business Partner Network Capability Voucher Scheme. This is a government funded scheme designed to boost business capability by providing funding of up to 50% of approved training programs with specified training providers up to a maximum value of $5000.
If you liked this article and want to make improvements in your business, with quarterly coaching sessions specifically tailored to support you to identify and achieve your business goals, lets chat!