If your business is successfully selling products to local and national domestic markets, chances are you have thought about the possibility of exporting to other international markets too? Here's our guide to business exporting to help you on your way.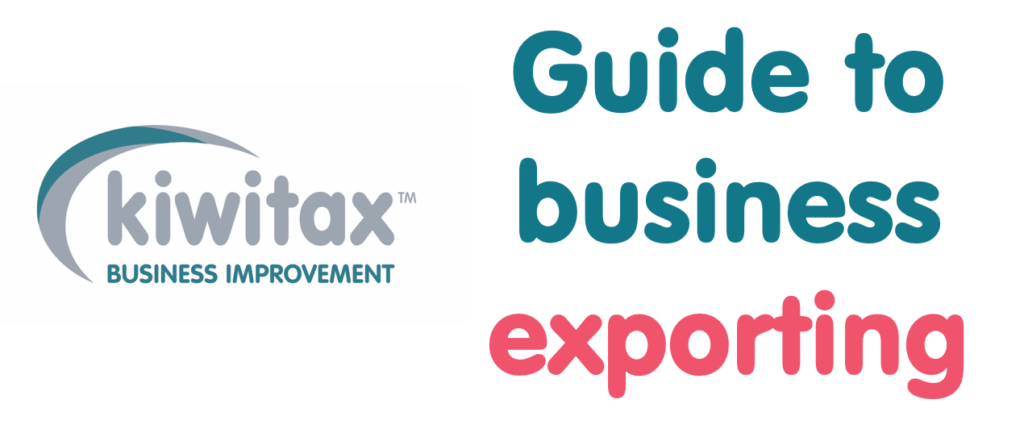 Exporting is a great way of diversifying your business to reduce risk and grow but there are a number of traps that businesses new to exporting need to be aware of. There's also loads of great support from Business Improvement agencies like Kiwitax and New Zealand Trade and Enterprise (NZTE) to help you along the way.
Before you set off on your exporting journey however, it's important that your domestic business is solid, as exporting will demand that you take your focus away from the local market activity and share your time between markets.
Some of the benefits and downsides of exporting
One of the first and most obvious benefits from exporting is gaining access to a larger potential customer base. Where New Zealand has a total population of nearly 4.8 million people, across the ditch, the Australian population has over 5 times that with 24.6 million people. Looking further afield at markets like China and you have a population of nearly 1.4 billion. So, it makes a lot of sense that if you want a bigger addressable market you should look at offshore markets.
Another benefit of exporting and selling to a larger addressable market is being able to unlock and gain economies of scale in your value chain. That is, the more you produce, the cheaper it should be to produce your products. This can come down to efficiencies in your supply chain, gaining access to cheaper parts etc or through lower unit labour costs with optimisations like shift-based production. There are many ways you can benefit through scale.
There are some downsides to selling to export markets however, and this is where you need to have a robust plan in place before you rush into picking or choosing your export markets. One main reason is that selling a product to a customer in a foreign market will be more expensive than selling the same product to a customer down your street. Things to think about are transport and logistic costs, tariffs or other international currency costs, marketing costs in a foreign market and so forth. This means you need to ensure your pricing strategy leaves enough margin for your export products to actually make a return. Marketing researchers can test your pricing and positioning before you launch, giving you confidence in your pricing and markets before your launch.
There are other considerations with exporting too, such as the "foreign-ness" of your chosen export markets. Cultural differences can lead to brand perception differences and potential customers viewing your product or brand quite differently than that of your local market. Some businesses will employ market researchers to test products and brands in market to ensure you can hit the ground running. Sometimes businesses will create market specific brands that are tailored to the tastes of the export market in the local language of the market. If you are thinking about doing this yourself, you should consider employing a marketing agency in the market you wish to export to and avoid the temptation of using Google translate doing it yourself.
Researching and picking your markets
The key to successful exporting comes from having a solid strategy on the back of thorough planning and research. There are a number of market research agencies that can help you develop a better understanding of foreign markets and a number of tools you can use yourself too.
When researching and comparing potential markets, you want to look at factors relating to market entry, market attractiveness, opportunities and channels. These are best done via secondary (desktop) research methods initially to develop a shortlist that you can then visit for some primary (in-market) research later.
Market Entry – Can you enter the market? Are there any barriers to launching in the market such as political trade barriers etc? Does the market have any special compliance issues for your products?
Market Attractiveness – Is the market easy to do business in? Is it expensive or difficult to get your goods to the market? Are there enough customers to make the market worthwhile? Do they view your brand and your product as they do in your local market? Will they pay what your product will be priced at?
Market Opportunities – What does the competitive landscape look like? Are there similar opportunities to sell your product as in your local market?
Market Channels – What methods or channels exist for you to be able to sell to end customers through? Are they accessible, what will they cost, are they responsive, will they match your brand positioning? Here are some options;
Direct – selling your product directly to end customers without an intermediary, may require feet on the ground or an office in market.
Agency / Distributor – Working with an agency or distributor and having them acting as your feet on the ground, managing your customers, orders, returns etc.
Licensing – A form of partnership where you allow a pre-existing company operating in your export market to produce your product sometimes using your brand in exchange for a license fee or royalty.
Partnership / JV / Alliance – A partnership, Joint Venture or alliance is where you work with another company to co-develop an export market either together as separate entities or together through a new entity, can help in markets with nationalistic tendencies.
There are other tools and processes you can use to rank and compare market attributes such as a PESTLE analysis which stands for Political, Economic, Socio-cultural, Technological, Legal and Environmental analysis of remote markets. Details on the analysis are available here.
NZTE also have some fantastic export guides available here and workshops available throughout New Zealand here.
Market research data sources
New Zealand Foreign Affairs &Trade – Tariff Finder https://www.tariff-finder.govt.nz
Google – Online Shopping Trends https://www.thinkwithgoogle.com/feature/online-shopping-trends
World Bank – Ease of Doing Business Ranking https://www.doingbusiness.org/en/rankings
US Government – Country Commerce Guides https://www.export.gov/ccg
Visiting your markets
Once you have narrowed down your potential markets you should think about the resources you have on hand and your capability to contest the markets as they will require a lot of focus to get going. If you are still committed then it's time for some primary research, visiting the market in person to get a feel for them.
You can do this on your own, go with a trade delegation or work with a mentor who may have already been down the path on the market beforehand.
Some areas of the foreign markets that you may want to explore, and research are talking with the local marketing agencies, identifying and interviewing potential distributors. Visiting local trade shows, checking out your potential competitors and their customer experience. Talking with local or central Government Economic Development Agencies.
Getting help
New Zealand is nation that is highly dependent on exporting, as a result the New Zealand government is highly vested in supporting and growing our export capability. That is what the New Zealand Trade and Enterprise has been set-up top provide and they do a great job of doing just that. We highly recommend that you check out their resources and workshops that cover topics like;
Export essentials
Selling Essentials
Market Finder
Market Research
Funding your expansion
If you are serious about exporting you may need additional capital to do this, if that is the case, you should check out the Kiwitax Business Finance Basics guide.
About Kiwitax – Award winning business improvement, tax and accounting service
Here's the thing. As a business, rental property owner or start-up, you get a kick out of having your own gig. But chances are dealing with your tax and accounting leaves you cold. Good news! We love it, so hand it over to Kiwitax and we'll look after it all for you.
Whether you deal with us online, by phone or drop into our Napier office, you'll find a friendly, professional hardworking team ready to work with you, however you keep track of your financial information and from wherever you do business. And all for a fixed price.
Plus if you're at a loss to know how to improve aspects of your business – from growth planning to cashflow management, even tax debt and so much more – we're all over that too. Our Business Improvement advisors can help you make a plan and put it into action.
Kiwitax are a preferred training provider for Business Improvement services through the Regional Business Partner Network Capability Voucher Scheme. This is a government funded scheme designed to boost business capability by providing funding of up to 50% of approved training programs with specified training providers up to a maximum value of $5000.
If you liked this article and want to make improvements in your business, with quarterly coaching sessions specifically tailored to support you to identify and achieve your business goals, lets chat!