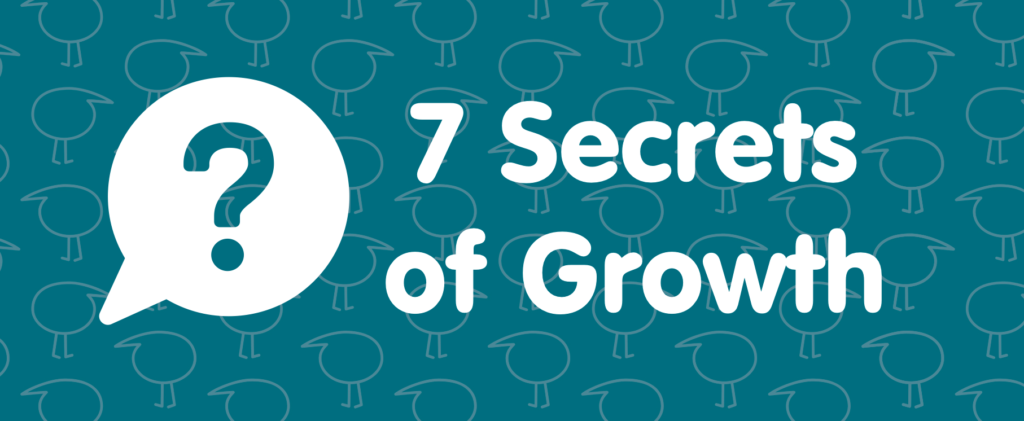 Ever wondered how some people just seem to know how to grow their business and what buttons to push? It can seem as if some business owners are gifted with the ability to speak "numbers".
Well, we are going to show you that it's actually no secret, and that there are seven key areas that are typically responsible for growth in most businesses. And we are going to show you how these KPI's (Key Performance Indicators) relate to a typical Tradie business and which "rabbits" they should chase to grow.
Right, let's take a quick look at these 7 ways to grow your business;
Improve your retention rate
They say it costs five times more to find a new customer than it does to keep one, hence improving your retention rate is a good strategy for improving your bottom line.
Improving your retention rate could include things like developing an account management process, running a loyalty program or improving your customer experience.
Increase lead generation
Generating more leads is all about having more potential customers to sell to. More leads at your current conversion rate will lead to more sales.
Ways to increase your lead generation could be through doing things like running additional advertising, establishing an email newsletter and database development, sponsorships or improving your website.
Improve your sales conversion rate
Improving your sales conversion rate means converting more of your leads into customers.
You can improve your sales conversion rate by doing things like training your sales team, developing and improving your offer, offering free trials, putting out loss leaders (like supermarkets do with bread) or even offering new payment terms and options. It could even be as simple as ensuring you chase up quotes you have sent out.
Increasing transaction frequency
If you can sell to a customer once, chances are you can sell to them again, encouraging your customers to buy from you more often makes a big impact on your bottom line.
To encourage customers to do business with you more often you can do things like run competitions, offer sales incentives and rebates or even simply improving your customer communications like newsletters.
Increase transaction value
"Do you want fries with that?" five simple words that had a dramatic effect on McDonald's restaurant business. Add-ons and upselling will increase your transaction value and boost profitability with little extra effort or cost.
Some easy ways of increasing transaction value can include things like asking "Do you want fries with that?" at the point of sale, offer add-ons like additional product warranties, or even by offering finance like flexible payment plans on a minimum spend limit.
Reduce the cost of goods sold (COGS)
Reducing the cost of the goods sold adds profit straight to your businesses bottom line. COGS includes all direct costs of the things you produce and sell and when deducted from your revenue gives you your gross profit.
Some ways to do this could include simply renegotiating with your suppliers by doing things like forecasting and bulk buying, paying by cash rather than on terms or you could work on finding new suppliers or even using technology and systems to find efficiencies by reducing wastage.
Reducing your expenses
Reducing expenses is like reducing COGS, it goes straight to your bottom line.
You can reduce expenses by doing things like reducing your inventory and stock on hand, sub-let unused office space, charge for offering finance or look to improve staff efficiencies by setting budgets.
Combined, these KPI's form an equation that can reveal the underlying growth potential in your business – Let's take a look at this Growth Equation.
The growth equation
The growth equation is a simple tool used for identifying the key value drivers in your business to help you develop your growth plan. The growth equation model lets you input numbers to model up various "scenarios" or strategies and easily see the bottom-line impact they have on your business.
The growth equation model is based on these seven "secret" key performance indicators above that each contribute to business cashflow and profitability.
By the way, Kiwitax offers a business coaching course to help business owners, just like you, develop your own growth plan based on this growth equation which for eligible businesses, is 50% funded by Regional Business Partners, check it out here.
Applying the growth equation to a business
Let's work through a practical example of using the growth equation with Paul the Plumber and his business, please note the numbers are rounded for ease of use.
Paul does 75% commercial work and 25% domestic work. In scenarios like this we would generally complete two growth equations, one for each client base, as they have slightly different characteristics with regard to things like retention rates but for the purposes of this example, we will focus on the commercial side of Paul's business.
Up first, we need to complete a "current situation" to get a baseline for the business to work off, these figures come from historical performance figures averaged out and give us something to work off to see what effect our suggested changes might have.
As you can see Paul's business is turning over annual sales of around $360k, he has a couple of employees being paid around $75k each and with other business overheads (premises, vehicles etc) this total expenses come to around $225K. Unfortunately with COGS, this leaves net profits of only around $47K to pay Paul himself, that's a very average wage!
Sadly, this is a very typical situation in a tradie business but thankfully this situation can easily be turned around.
Let's, work through the growth equation and see if we can help turn Pauls business around.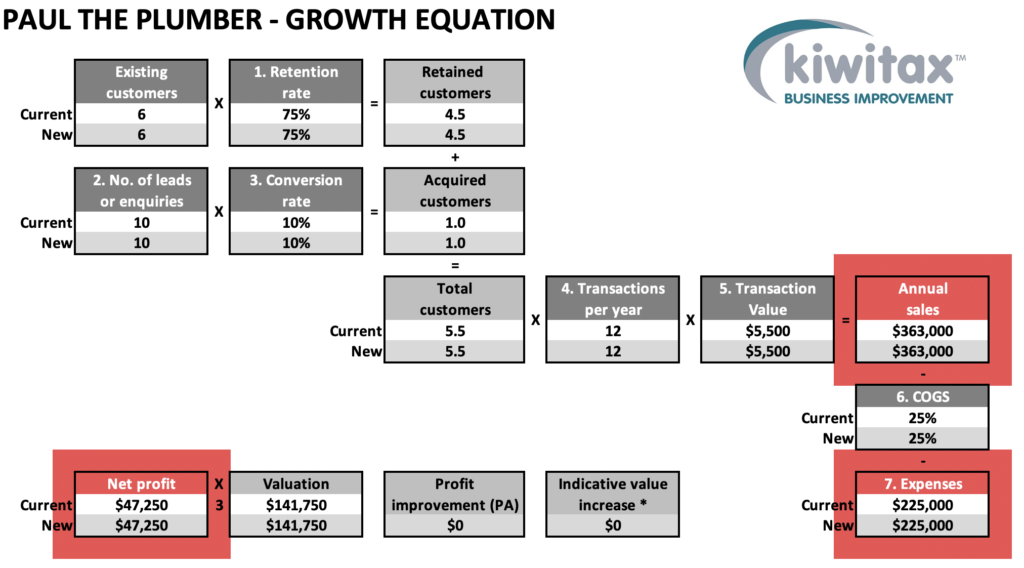 Retention rate
First, we would have a discussion around client retention and find out what systems and processes Paul currently has to manage his clients. Does he have a client database like a CRM? Does he regularly update the database and does he regularly communicate with his clients?
Paul says he does have a database, but it's not really used, and he relies on his good service to keep clients coming back to him. Unfortunately, this passive approach means he is losing one of his valuable clients each year, but it has been masked by the extra client he has been picking up from word of mouth referrals.
We discuss options to improve his client retention and settle on better utilisation of his CRM solution and an email newsletter sent once a month to keep his plumbing business front of mind and a preferred supplier for his customers. We estimate that this will improve his retention rate to 100% (see highlighted KPI) this small investment in time should have the effect of improving his profit by over $70K!
Not a bad outcome and very realistic given the resources he has with his two staff to service the retained customer.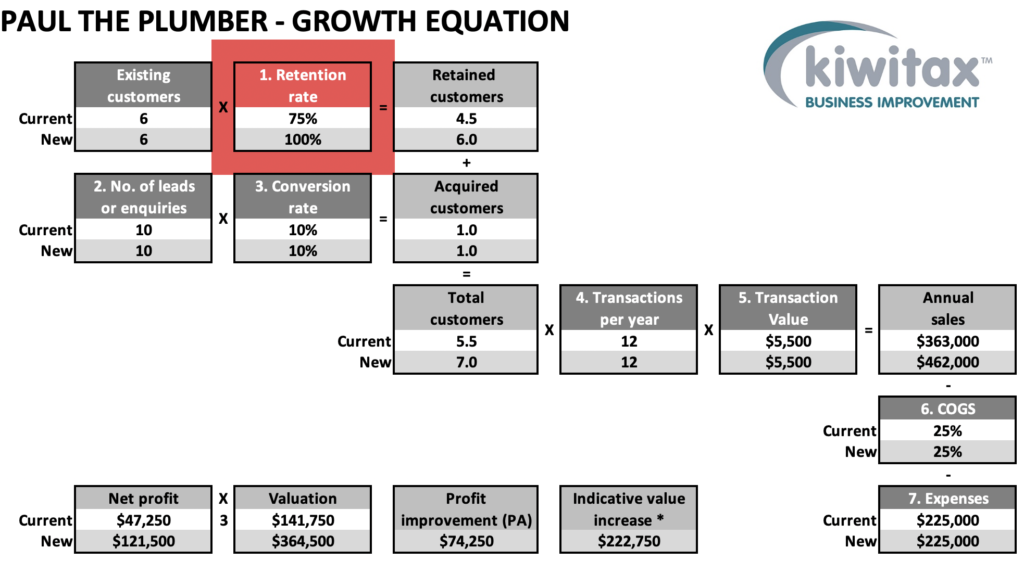 Lead generation
We then move the discussion to lead generation and find out what marketing Paul currently undertakes; he tells us he's mainly relied on word of mouth to date.
We discuss options to increase awareness of the business and decide that some paid advertising would help people recognise and request his "Paul the Plumber" brand. We agree on a radio advertising campaign, combined with prominent vehicle branding and branded uniforms for his team members. These actions will have a cost associated with them which we need to reflect in the expenses and extra leads and new customers being generated as a result.
We also think Paul should take on an apprentice to help with servicing these extra clients and this will also increase the business expenses so, we've reflected total increased expenses from the advertising, branding and apprentice now being $300K. We think the extra leads will double the current level of enquiry.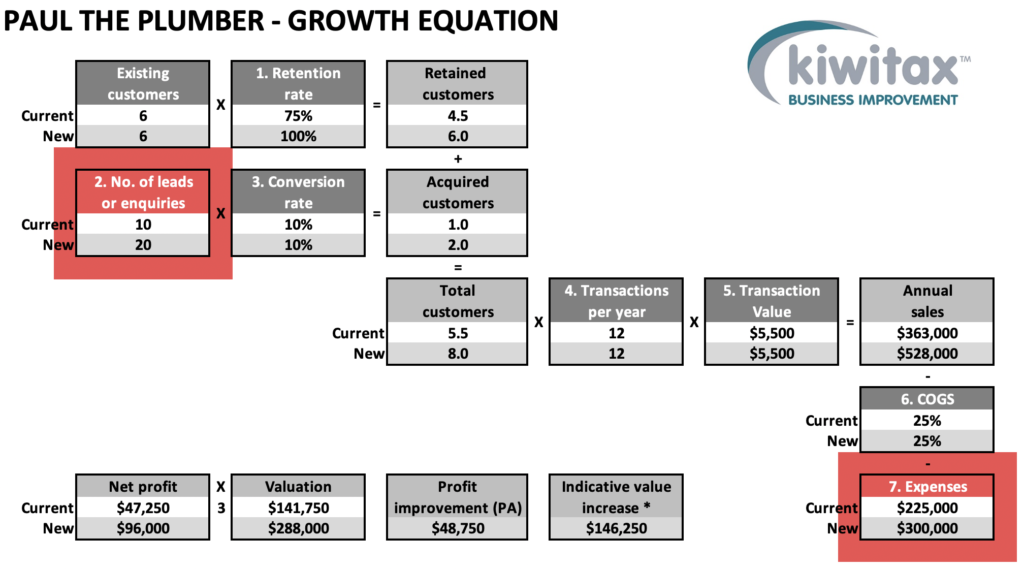 Conversion rate
Then we discuss Pauls conversion rate at 10%, which is quite low, and it turns out Paul doesn't tend to follow up with people once he has provided them with a quote, mainly because he forgets and partially because he is too busy on the tools.
We discuss using his CRM database more effectively and setting up a reminder system to ensure he follows up on his quotes, especially now that he has extra hands helping in the business. A small effort here could increase the conversion rate by 10%, doubling the number of customers he could acquire and building his net profit up to a respectable $195K.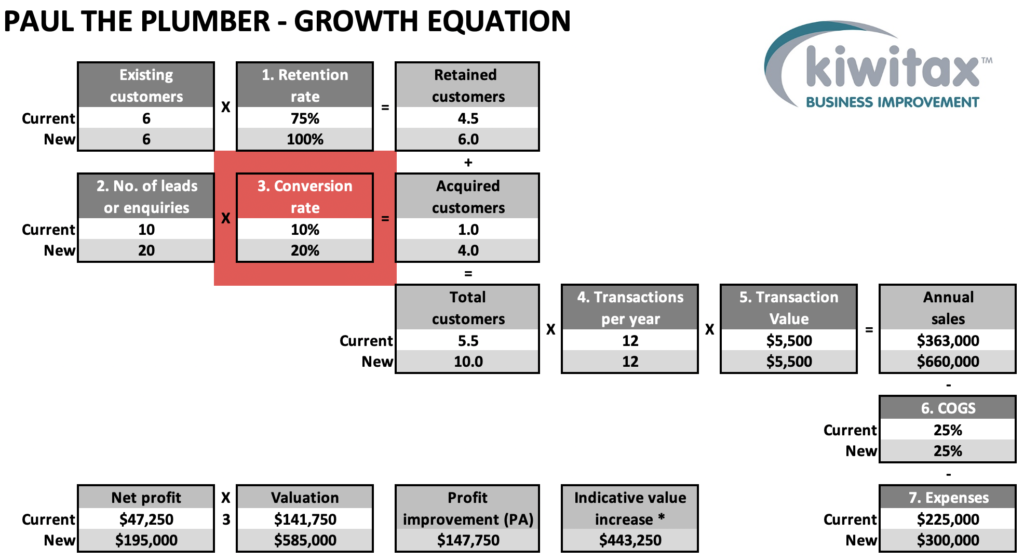 Transaction frequency
We discuss transaction frequency and Paul tells us that his commercial clients prefer just getting one invoice a month as it suits their cashflow and works as part of his maintenance plan offering. We decide that this is already as optimised as it could be and not worth making any other changes for the sake of change.
Transaction value
Talking about transaction value now and this is often one of the low hanging fruits as most businesses don't regularly review their hourly charge out rates or material charges.
We focus on Paul's hourly rate, he says he knows its lower than the current going market rate, but he was worried that if he put it up, he might put customers off. We discuss putting the rate up for his new clients and easing his existing clients into it by giving them notice and gradually increasing their rates over time. We think this modest change will increase his average transaction value by up to $100.
The result is that Pauls net profit has now potentially risen to an impressive $204K.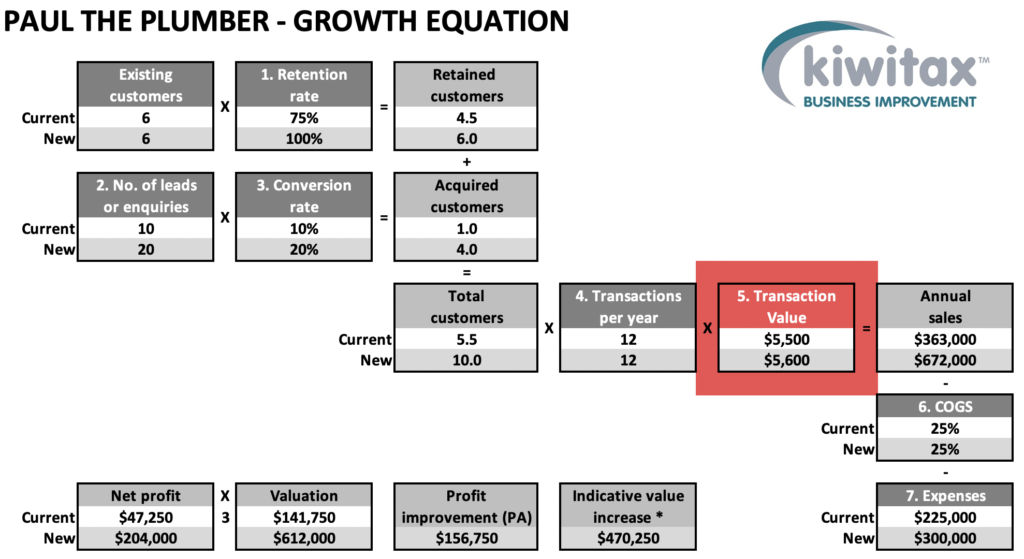 Cost of goods sold (COGS)
Reviewing the cost of goods sold is often one of the bigger areas of focus in a tradie services business like Pauls as this includes staff wages and materials. Also, it is often harder to make as big of a gain as in other areas with a similar effort.
We decide to focus on staff wages first up and talk about what gains can be made, we decide on a few different measures. One, Paul will begin using the tools in his accounting software to track billable hours and efficiency of his team, this will allow him to keep on top of any issues much earlier. And two, some health and safety training for his team reduce time lost to injury, and training around materials and consumable wastage.
Secondly, Paul will approach his suppliers to see if he can negotiate better terms for the products and materials he uses on client jobs.
These strategies should all be fairly easy to implement and not add any extra cost while Paul should see a real-world reduction of around 2% on his COGS, this all adds straight to his bottom line.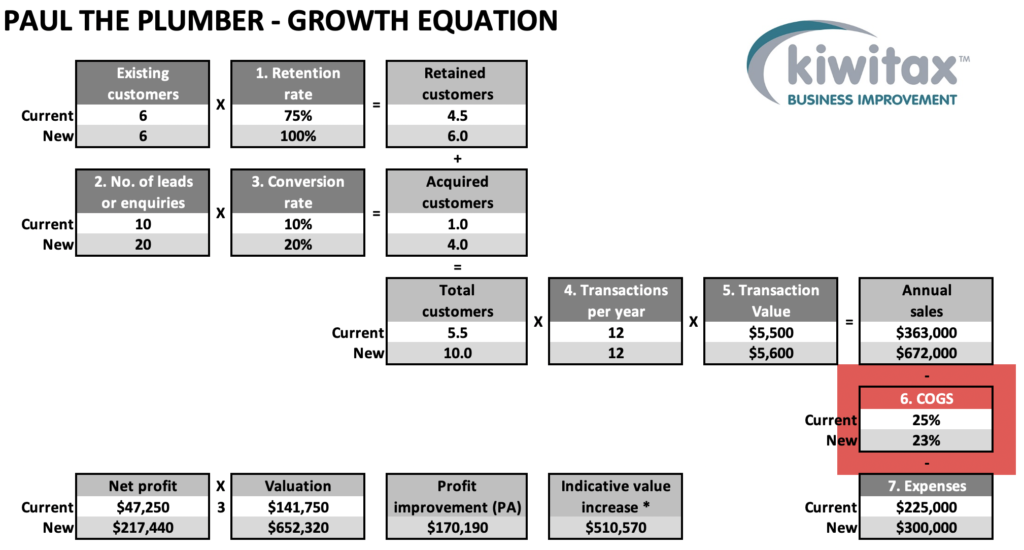 Expenses
Finally, we turn to Pauls expenses and we go through his business expenses line by line to see where we might be able to make savings by doing things like shopping around or negotiating better terms with existing suppliers.
We've added some expenses to his business through our lead generation and taking on extra staff and in order to fund this, Paul may stagger his approach to all of these strategies. And so, we decide to reflect expenses sitting as they are at $300K.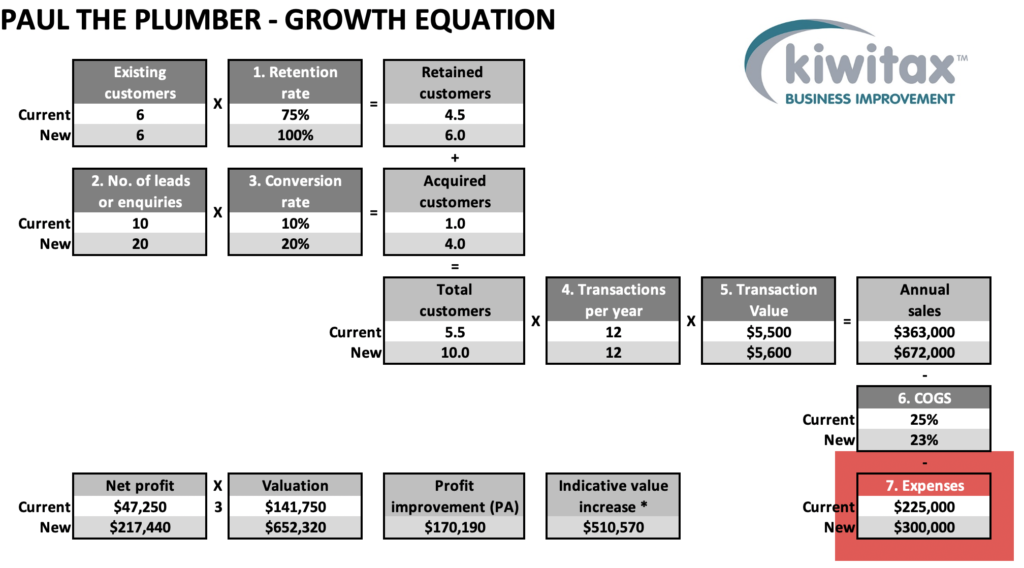 The result
As you can see in Paul business, from a current scenario and some simple strategies. Paul could easily increase his businesses profit by over $170K, allowing Paul to pay himself an impressive $217K per annum, compared to the $47K wage Paul was previously paying himself.
A tool like the Growth Equation lets you see things in a much simpler way, breaking the problem down in to bite size pieces.
The trick from here is ensuring you carry out the strategies and track progress against your assumptions.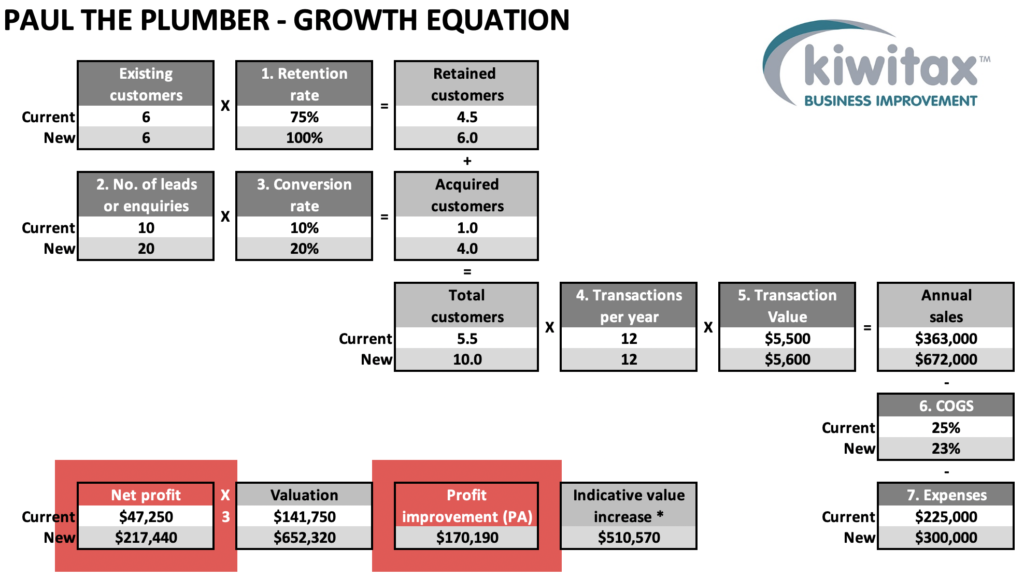 Applying the growth equation to your business
Now that you've learnt all about the seven "secrets" of growth and the growth equation, how would you like to learn how to apply them to your business?
Well, we have some very good news, Kiwitax offers a Business Improvement Services to help you do exactly that plus track quarterly progress giving you some accountability to achieve your goals. Check it out and get in touch if this sounds like something you would like to do. For eligible businesses the Regional Business Partner Network is offering up to 50% funding.
About Kiwitax – Award winning business improvement, tax and accounting service
Here's the thing. As a business, rental property owner or start-up, you get a kick out of having your own gig. But chances are dealing with your tax and accounting leaves you cold. Good news! We love it, so hand it over to Kiwitax and we'll look after it all for you.
Whether you deal with us online, by phone or drop into our Napier office, you'll find a friendly, professional hardworking team ready to work with you, however you keep track of your financial information and from wherever you do business. And all for a fixed price. It takes just two minutes to get a quote.
Plus if you're at a loss to know how to improve aspects of your business – from growth planning to cashflow management, even tax debt and so much more – we're all over that too. Our Business Improvement advisors can help you make a plan and put it into action.
Kiwitax are a preferred training provider for Business Improvement services through the Regional Business Partner Network Capability Voucher Scheme. This is a government funded scheme designed to boost business capability by providing funding of up to 50% of approved training programs with specified training providers up to a maximum value of $5000.
If you liked this article and want to make improvements in your business, with quarterly coaching sessions specifically tailored to support you to identify and achieve your business goals, lets chat!