Wondering if it is time to switch accountants? Anyone who's been in business knows how important it is to have a skilled and experienced accountant keeping an eye on your books, imparting advice and sorting out your tax compliance obligations. What's even better, is one that understands you, your business situation & challenges and genuinely wants to help and support your success. Yet, not every accountant does this.
The thing with accountants is that we're not all created equally. We don't all have the same industry experience nor offer the same level of support or range of services, and this means that customers can have very different service experiences and outcomes in their businesses.
Add in the fact of how busy business owners can get with running their businesses, and this means that they rarely have the time to even think about whether they have the best accountant to support their needs.
So, we decided to help, by creating a simple guide to the 5 signs that it is time to switch accountants.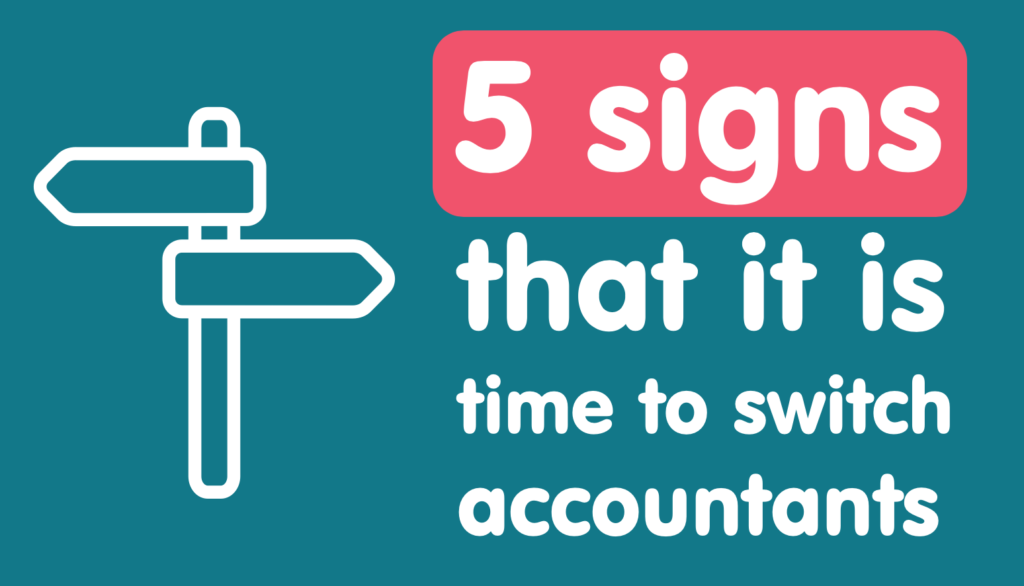 Looking for the signs
Running a business means making lots of decisions, sometimes with incomplete or unclear information. You make a decision, you move forward, sometimes the decisions are good, sometimes not so good. If you take time to observe the outcomes from your decisions, you will notice signs that point to how well you made that decision and potentially how to help shape future related decisions.
Luckily, there are also signs that point to how well aligned your accountant is with you and your business. Check out these signs and have a think about your situation, if your accountant is lacking alignment with your needs, perhaps it is time to think about finding the perfect accountant for you?
Planning forwards or looking backwards
Is your accountant only interested in reporting the results that have already happened?
The past results you have achieved in your business contain important clues (data) that can help you shape and plan for more and better success in your future, but you have to know what you are looking for and how to use the data as a tool. This is where your accountant should be really well equipped to provide guidance.
A good accountant should be just as interested in your future plans, as they are of your past results. Even better, they should be able to actually help you shape them with business planning support such as Kiwitax Business Improvement services.
Moving with the times
Does your accountant recommend taking advantage of modern accounting software and also provide training and support?
Modern accounting software like Xero and MYOB, can help you (and your accountant) save a massive amount of time and cost. But not all accountants are trained and equipped to be able to use this software.
Some accountants are only trained and competent with one software package and so they won't be able to recommend and ensure you have the best package for your needs. Kiwitax on the other hand can work with any accounting software and better yet, provide all the training and support you need for a fixed price.
Customer service
Does dealing with your accountant feel like an easy and rewarding process or do you walk away with more questions than answers?
Customer service can be the difference between feeling confident that you've got the support you want when you need it or feeling left out in the cold. A well-designed customer service experience takes a whole lot of customer feedback to develop and craft but the results mean happy customers.
A good sign of happy customers and great customer service can be found through reviews, check out an example of the feedback and reviews that Kiwitax receives or do a Google search for yourself. Does your accountant get reviews like these?
Proactive, clear communication
Do you meet with your accountant and leave the room still feeling confused?
Does your spouse or business partner ask how the meeting went and you cannot recall the information due to complex accounting jargon?
The ability to translate complex accounting strategies into simple and easy to follow guides is a skill that not many accountants possess. This can leave you feeling bewildered and frustrated or even worse, you might miss important deadlines that can cost you money.
Finalists at the New Zealand Plain English Awards, Kiwitax takes great pride in avoiding the use of jargon in communications, so much so that we've baked it right into our company values. We provide clients with a proactive monthly update email to advise of critical tax dates, changes to legislation and any other relevant business info. In fact, you don't even need to be a client, you can sign-up for Kiwitax client update emails for free here.
Value for money
Does your accountant bill you in six-minute time-blocks? Does receiving an invoice for every time you pick up the phone to ask simple questions leave you seeing red?
It doesn't have to be that way! Many accounting firms like Kiwitax, provide fixed price quotes to complete your accounting work and provide business improvement support.
Even better, as preferred suppliers to the Regional Business Partner Network Capability Voucher Scheme, your business may qualify for funding of up to 50% of our growth planning and quarterly coaching programs.
Take a look around
So, there you have it, the 5 signs that it's time to switch your accountant. If you think it's time that you take a look around at better options, obviously we'd recommend to get a quote from Kiwitax, but feel free to take a look at our handy guide to finding the perfect accountant for your needs. Or find out how easy it is to switch accountants here.
About Kiwitax – Award winning business improvement, tax and accounting service
Here's the thing. As a business, rental property owner or start-up, you get a kick out of having your own gig. But chances are dealing with your tax and accounting leaves you cold. Good news! We love it, so hand it over to Kiwitax and we'll look after it all for you.
Whether you deal with us online, by phone or drop into our Napier office, you'll find a friendly, professional hardworking team ready to work with you, however you keep track of your financial information and from wherever you do business. And all for a fixed price.
Plus if you're at a loss to know how to improve aspects of your business – from growth planning to cashflow management, even tax debt and so much more – we're all over that too. Our Business Improvement advisors can help you make a plan and put it into action.
Kiwitax are a preferred training provider for Business Improvement services through the Regional Business Partner Network Capability Voucher Scheme. This is a government funded scheme designed to boost business capability by providing funding of up to 50% of approved training programs with specified training providers up to a maximum value of $5000.
If you liked this article and want to make improvements in your business, with quarterly coaching sessions specifically tailored to support you to identify and achieve your business goals, lets chat!